With Chinese New Year only a few months away, it will undoubtedly be one of the biggest movements of people in China, if not Asia. Like the West, when people return home to spend time with family and friends during Christmas, it's not that different in China.
You may ask, "What effect does Chinese New Year have on the bag manufacturing industry?" This article will explore, inform, and guide you in planning your bag orders around Chinese New Year 2024. If we learned any lessons from COVID-19, we can only plan so much, with key industries being affected in production and shipping. Of course, there are some things that we can never truly be in control of. However, there are some things that we can and should be aware of in the bag manufacturing industry that will allow us to be more proactive.
The Effect of Chinese New Year on The Bag Manufacturing Industry
After the lifting of COVID restrictions, in early 2023, China had more than 2 billion trips; this was lower than the 3 billion trips in the years before the pandemic. As Chinese New Year nears, factory workers will travel back to their hometowns, causing manufacturers and suppliers to reduce their operations. The top 3 Chinese cities with the most outbound migration are Chongqing, Beijing, and Guangzhou.
Factories in China slow down and close for up to 3-4 weeks during the Chinese New Year period from January to February, which means many manufacturers will only be fully operational in March.
Key Dates Chinese New Year 2024
Chinese New Year 2024 will fall on Saturday 10th of February, the year of The Dragon. The official public holiday is from the 9th to the 15th. Chinese manufacturers often have a good structure of the development-to-delivery plan. They work hard to catch up on the planned goods delivery point, especially with the upcoming Chinese New Year in 2024. Commonly, it's best to prepare as much as possible in the fashion industry. Fashion companies plan their products six months in advance.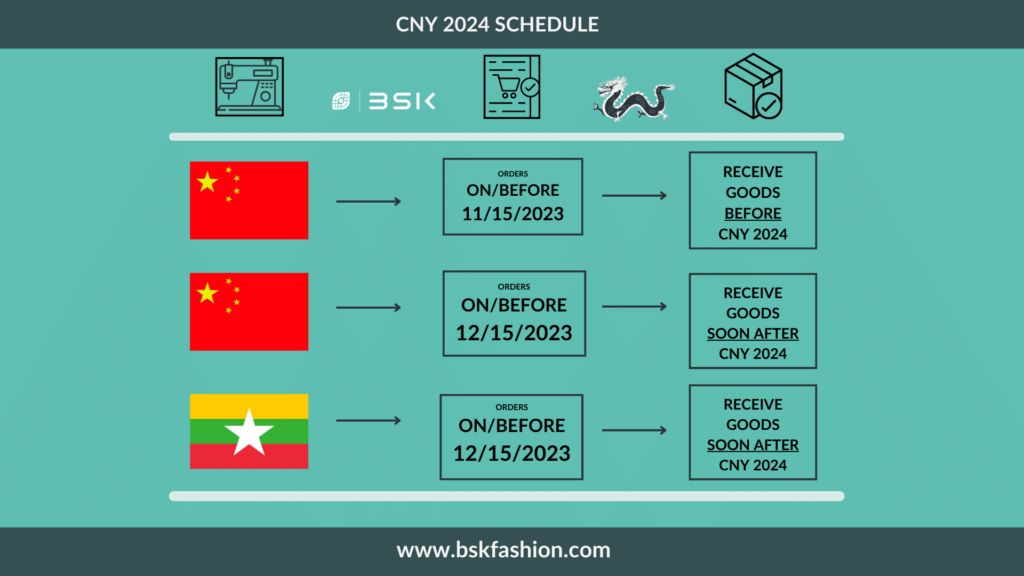 How Do We Plan Our Orders At BSK?
At BSK Fashion, we understand the importance of providing customers with a clear and transparent schedule for their orders. This is why we have implemented a detailed timetable considering the different time zones of our operations in China and Myanmar. By doing so, our customers can have full visibility of when to expect their goods and avoid confusion or delays.
Myanmar's order cut-off date for goods ready to be shipped out soon after CNY 2024 is December 15, 2023.
China's order cut-off date for goods ready to be manufactured right after CNY 2024 is December 15, 2023.
China's order cut-off date for goods to ship before CNY 2024 is November 15, 2023.
China factory closed 02/01/24 – 2/20/24
China office closed 02/01/24 – 2/19/24
Conclusion
One important thing to remember from the article is to be proactive with ordering. By anticipating customer needs and ordering supplies beforehand, you can avoid delays and keep your operations running smoothly. This approach also helps you build better relationships with suppliers and can result in better pricing and terms. Being proactive with ordering is a critical strategy for businesses that want to stay competitive and meet their customers' needs.
Need help? Contact us at BSK Fashion.