Style and Aesthetic Appeal: A handbag's overall style and visual appeal are greatly influenced by its shape as different shapes can convey different moods and fashion statements. The shape determines the bag's overall appearance and style, whether it's a structured and sophisticated bag or a slouchy and laid-back bag. It's important to take shape into account when choosing a handbag, as a carefully chosen shape can fit your needs, match your style, and improve your entire outfit. Let's take a look at the key handbag shapes for S/S 2024.
Key Shape #1: Distortion Of The Form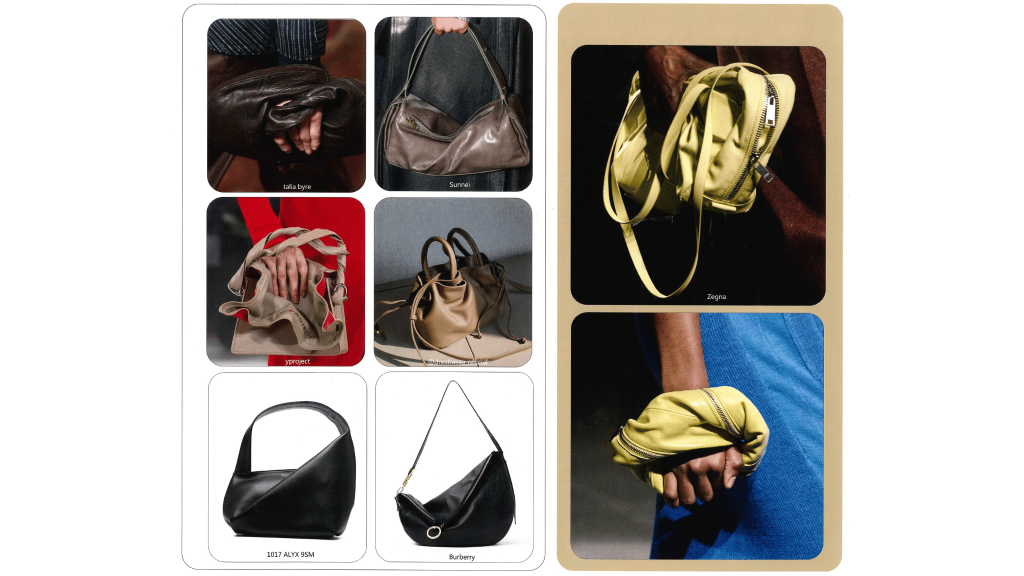 The central focus of an outfit can be a handbag with distorted shapes, instantly enhancing the look of the ensemble. The distorted form shape has the ability to turn even the most basic outfit into a powerful fashion statement. Handbags with distorted designs are distinctive and make a strong statement thus allowing the expression of individuality and fashion-forward sensibilities. Their distinctive shapes set them apart from more conventional handbag designs and draw the eye to them right away. They give an outfit personality and character by adding a touch of whimsy and fun. For those who like to challenge conventional fashion rules and experiment with unorthodox looks, distorted handbags are a fashion-forward option. The best perk about these handbags is unexpectedly versatile for styling, despite their distorted shape, they can give both casual and formal attire an intriguing and unexpected twist. Their distinctive design frequently goes well with more adventurous fashion ensembles as well as minimalist or monochromatic looks.
Key Shape #2: Toast Package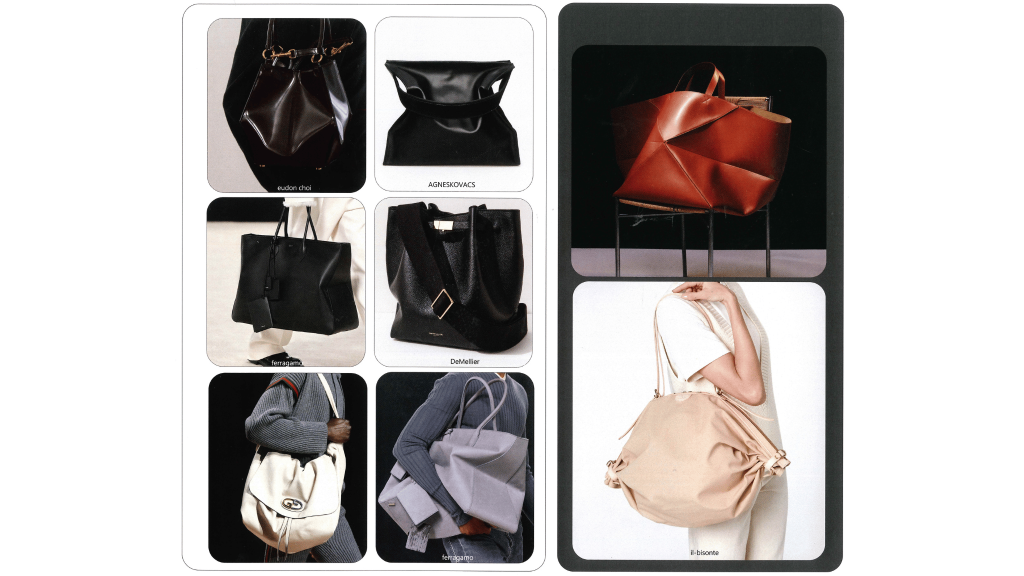 The boxy but slouchy handbags have a relaxed, carefree aesthetic that instantly makes any outfit look more put-together. They are appropriate for casual settings and everyday use because of their unassuming demeanor and relaxed silhouette. Slouchy handbags can easily upgrade a basic jeans and t-shirt outfit or go well with a bohemian-inspired ensemble. The relaxed shape of these handbags adds a laid-back and unstructured element to your overall appearance. This informality can convey a sense of comfort and nonchalance, giving your outfit a dash of carefree style. Slouchy handbags are an alternative to more formally structured and structured handbag styles, enabling a more relaxed and comfortable aesthetic. Larger slouchy handbags can be used as everyday carry-alls making them the perfect option for your long spring/summer days when you are on the go.
Key Shape 3: Hard Barrel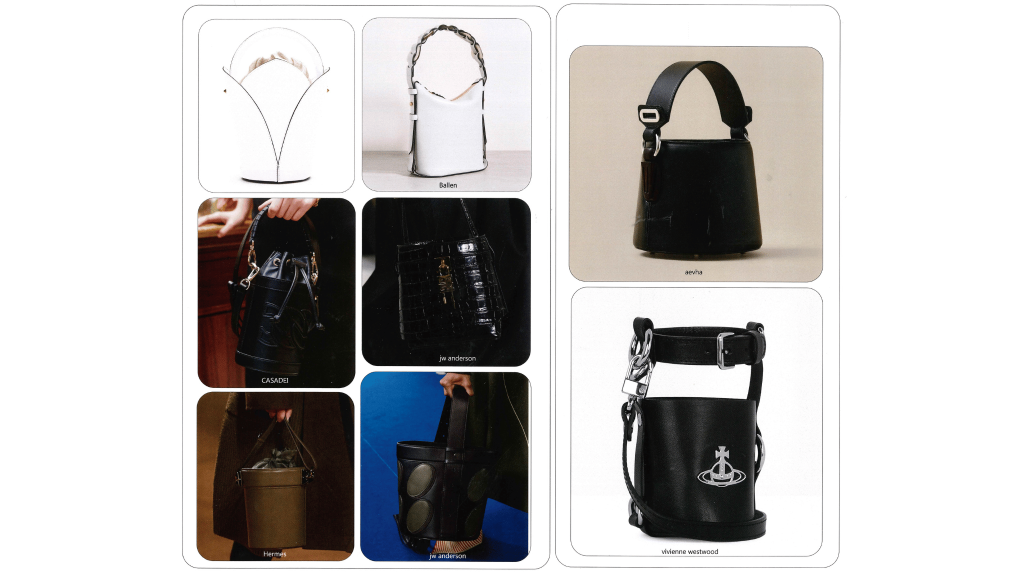 Cylinder-shaped handbags are a standout accessory because of their eye-catching shape, which attracts attention and starts conversations. They can become the focus of an ensemble, making a daring and distinctive fashion statement. The handbag's cylindrical shape gives it a modern and edgy appeal, which enhances the look of any outfit. It can make a less formal outfit more stylish or give it a distinctive twist. Those who value modern and unusual designs favour handbags in a cylindrical shape as they are a statement piece that draws attention thanks to their unusual silhouette, even offering a hint of avant-garde fashion.
Key Shape #4: Long Space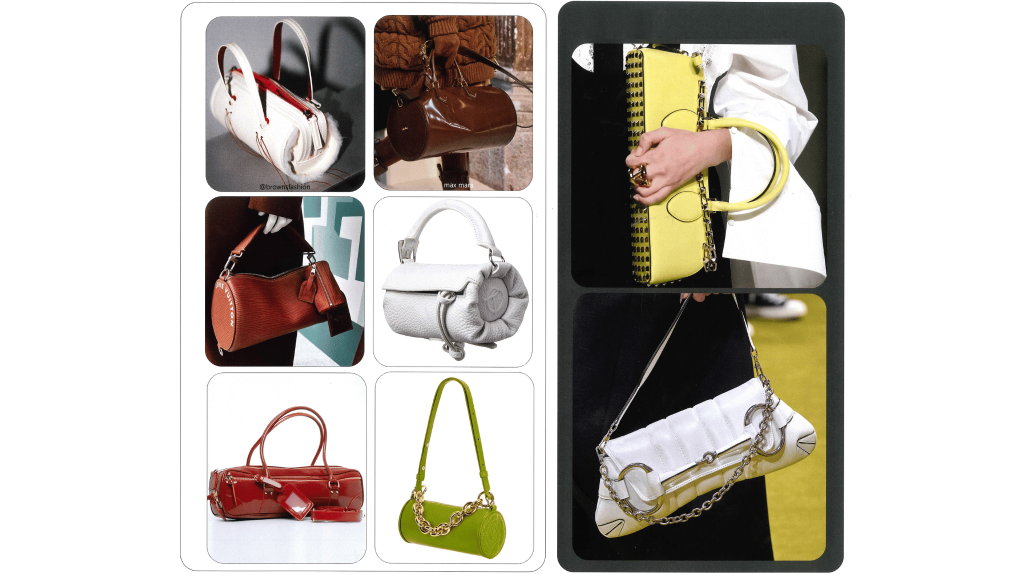 The next of the key shapes for S/S 2024 we are diving into is Long handbags. They frequently have a simple, minimalistic design, which gives them a contemporary, elegant look. The elongated form produces an eye-catching silhouette that gives any outfit an air of sophistication. Long handbags can be styled in a variety of ways, making them extremely versatile. Their elongated shape complements numerous outfits, ranging from casual jeans and tops to formal dresses, allowing you to wear them for various occasions. They offer a variety of looks and uses because they can be carried by the handles, worn as crossbody bags, or worn as shoulder bags. Long handbags can be more comfortable to carry because of their elongated shape, which more evenly distributes the weight of the contents. This is especially helpful for those who prefer larger bags but still want to put comfort first during extended use.
Key Shape #5: Lack of Space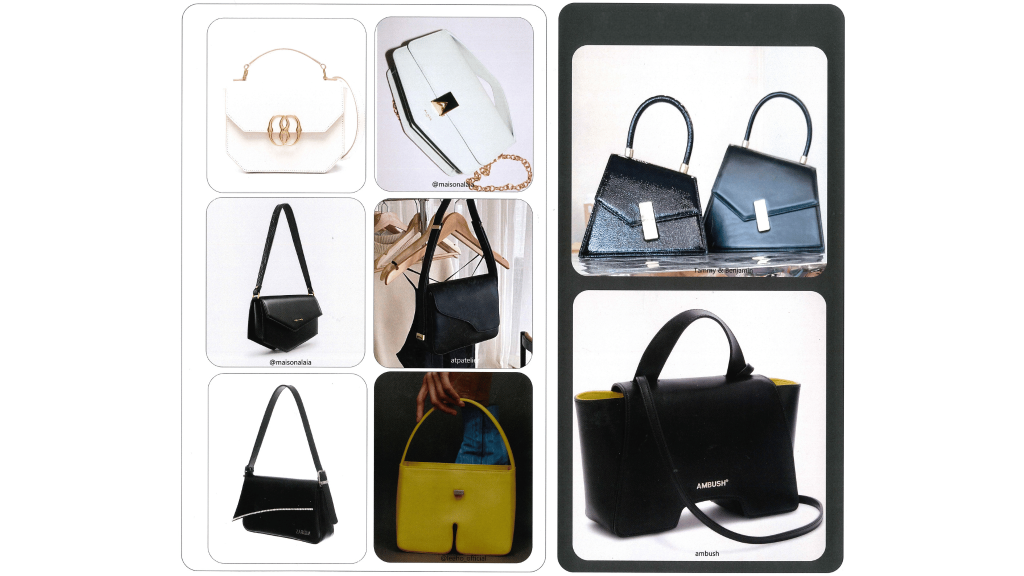 These lack of space-shaped handbags give a minimalistic appearance while remaining angular and chic. Sharp lines, geometric shapes, and distinct angles are frequent characteristics of angular handbags, which give them a contemporary and edgy appearance. These bags' simple, structured design gives any outfit a cutting-edge twist. They can accentuate your look with an architectural element while also making a bold fashion statement as these handbags' angular shapes give the eye a sense of structure and balance. Handbags' angular designs frequently find inspiration in geometric and architectural forms. Those who value creativity, design, and the arts will enjoy this handbag shape as the use of an angular handbag can be considered a form of wearable art that demonstrates appreciation for unusual and original. Due to the minimal appearance of these handbags, the angular shape is able to stand out giving a high-end vibe to the overall appearance.
Key Shape #6: Toast Package (Small)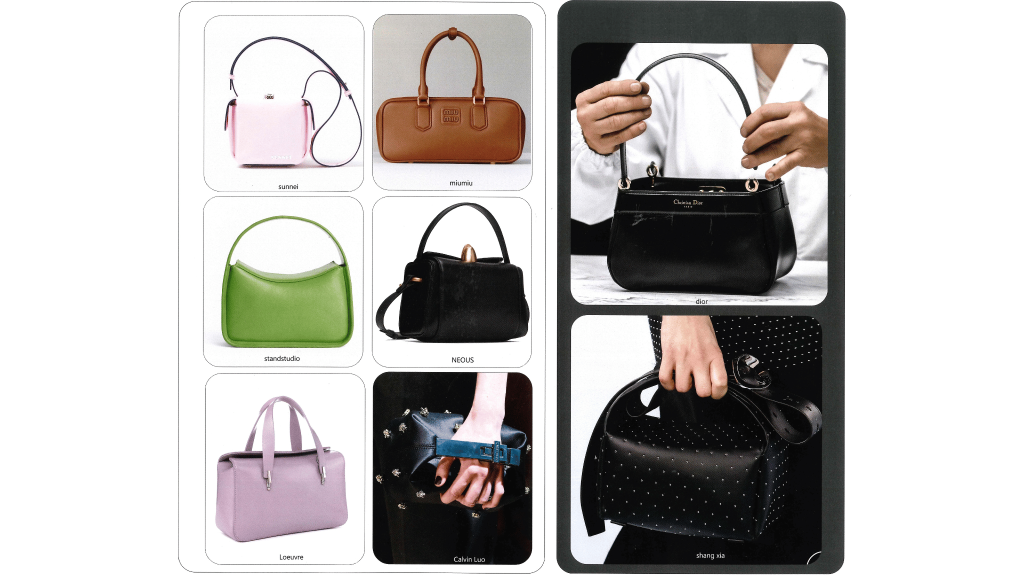 The last of the key shapes of S/S 2024 we explore is small toaster package handbags. Their unorthodox shape gives any outfit a playful and whimsical feel. These bags make a bold fashion statement by deviating from conventional handbag designs. They appeal to people who enjoy novelty and expressing their individual style with one-of-a-kind accessories. The smaller version of the toaster shape handbags is very portable and convenient due to their small size. Since they are portable and light, people can move around freely without having to haul around a heavy bag. For short outings, errands, or situations where you only need to carry a few items, these small handbags prove to be perfect. In addition, smaller handbags can still express themselves despite their limited size. Their petite stature draws attention and can make them the centerpiece of an outfit.
Want to read more about the key trends for women's bags in S/S 2024?
Key Colors S/S 2024 For Women Bags