The material of a handbag is a crucial element to take into consideration because it affects functionality, durability, appearance, comfort, maintenance, and environmental impact. It enables people to choose handbags that not only express their unique sense of style but also serve their functional needs and conform to their values. Let's have a look at the key materials for women's handbags for S/S 2024.
Key Material #1: Tannin reengineering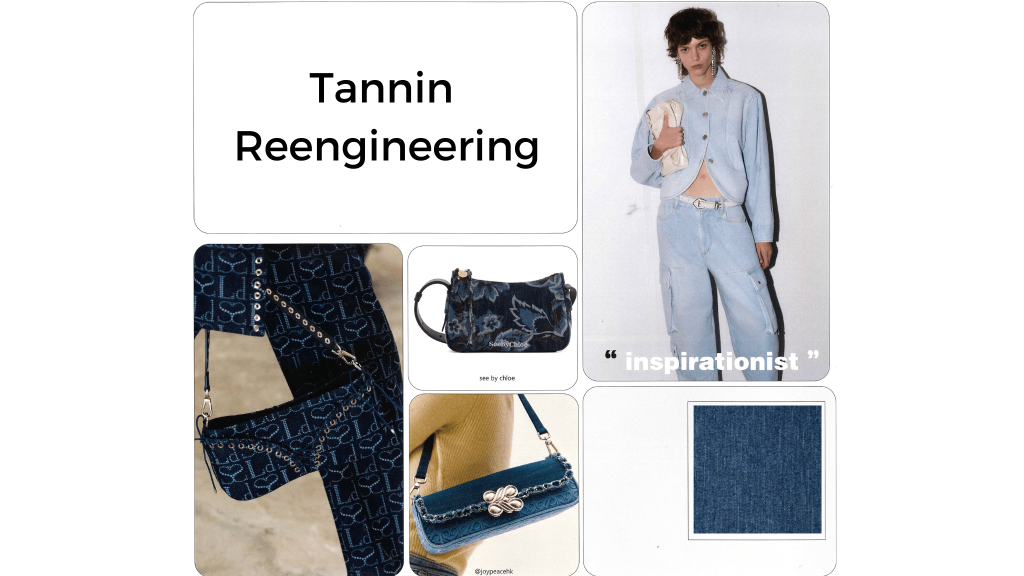 The material trend of Tannin reengineering, more commonly referred to as denim offers a laid-back casual look while still having a standout appearance. Denim maintains a timeless appeal and exudes a classic look that remains stylish year after year. For many years, this fabric has enjoyed widespread use in the fashion industry. Denim handbags are a versatile and long-lasting accessory option thanks to their enduring popularity. Handbags made from this material are a popular choice for people who value a casual and stylish appearance. They effortlessly add a touch of cool to any outfit. Furthermore, denim comes in a variety of designs and finishes, making it possible to create a variety of handbag styles. Available in a variety of washes, colors, and patterns, it offers choices to suit various tastes. Embroidery, patches, and other decorative accents can also be used to add a unique and artistic touch to the handbags.
Key Material #2: The Minimalist Luster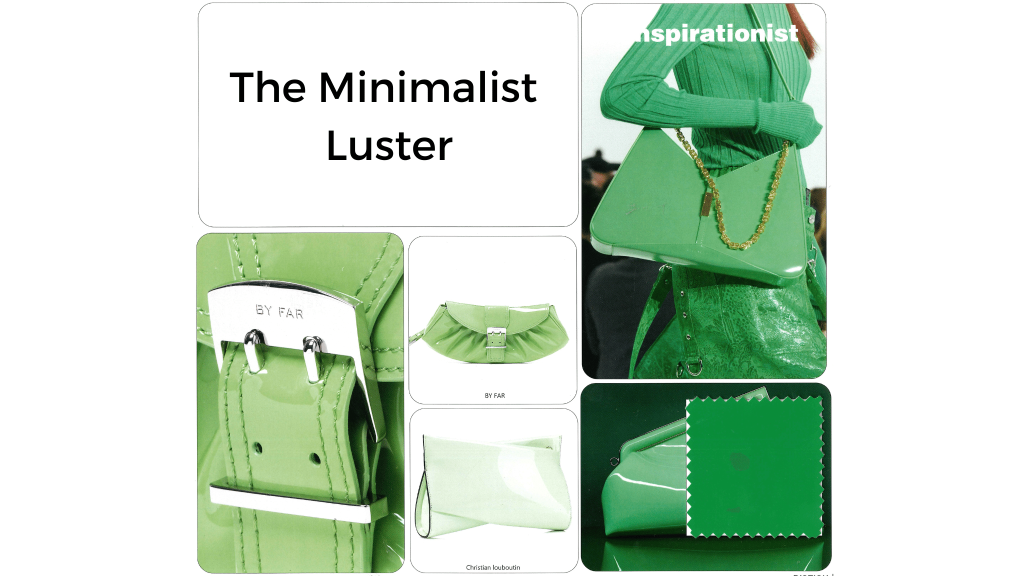 Current fashion trends and up-to-the-minute looks often feature glossy handbags as a prominent choice. The bag appears polished and reflective because of the shiny surface's ability to reflect light. It gives any outfit a dash of modernity and a futuristic feel. Fashion-forward individuals who embrace bold and unconventional styles favor it not only for being a trending material but also due to their eye-catching appearance. As well as being a trending material, glossy plastic handbags are also functional as they are perfect for rainy or humid weather because they are water-resistant and simple to clean resulting in low maintenance care. Lastly, handbags from this material are frequently lightweight, which makes them easy to carry all day. These bags can be quite strong and resistant to dents and minor impacts despite being relatively light. They are appropriate for those looking for a long-lasting and striking accessory.
Key Material #3: Silky Luster
Silky luster is another of the Key Materials S/S 2024. It has a luxurious aesthetic that exudes elegance and class. Its shiny, smooth surface gives handbags a posh, expensive appearance making it a desirable material for special occasions. With its texture, satin has a smooth, sensual feel to it that is pleasing to the touch. Its silky, smooth surface provides a sensory experience that raises the handbag's level of luxury and comfort overall while adding a touch of glamour and sophistication to any outfit. The silky luster material appeals to those who value a luxurious accessory that also evokes a sense of indulgence. Silky luster handbags can be the star of the show in terms of accessories, elevating the entire outfit and making an elegant fashion statement.
Key Material #4: Soft Gold Foil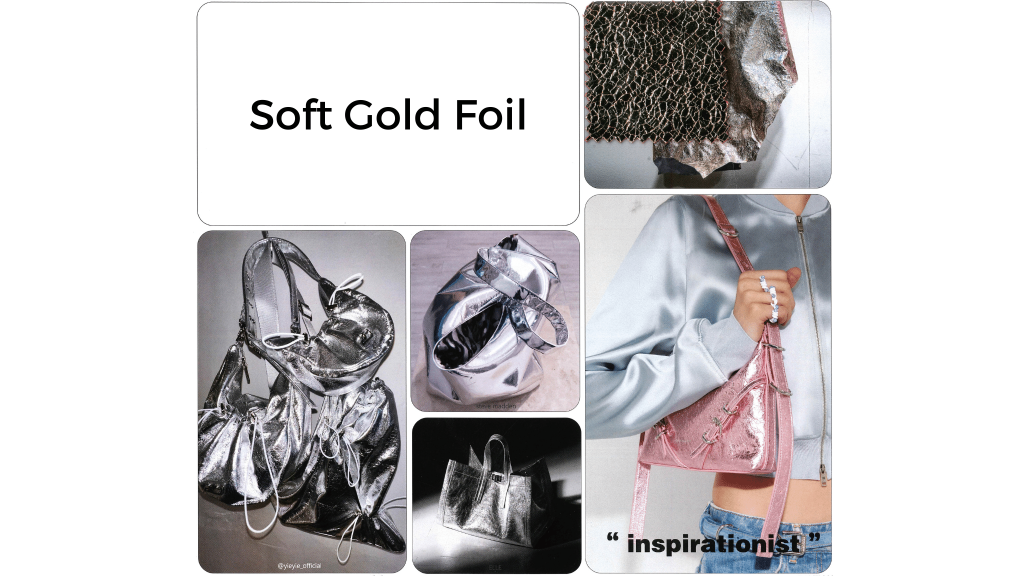 Soft gold foil is a perfect handbag material to add an element of futurism and uniqueness to your outfit. This shiny, soft reflective material is reminiscent of precious metals thus adding an air of sophistication and elegance to the overall look of the bag. The gold foil's ability to reflect light lends the handbag a lustrous and radiant appearance, making it stand out and catch the eye. Furthermore, the neutral color of soft gold foil strikes a balance between adding a special touch and remaining neutral. It adds a sense of exclusivity and luxury while working well with a wide range of outfits and color schemes. Soft gold foil handbags possess the versatility to be used on a daily basis while making a statement and exuding an air of exclusivity.
Key Material #5: Fold The Glossy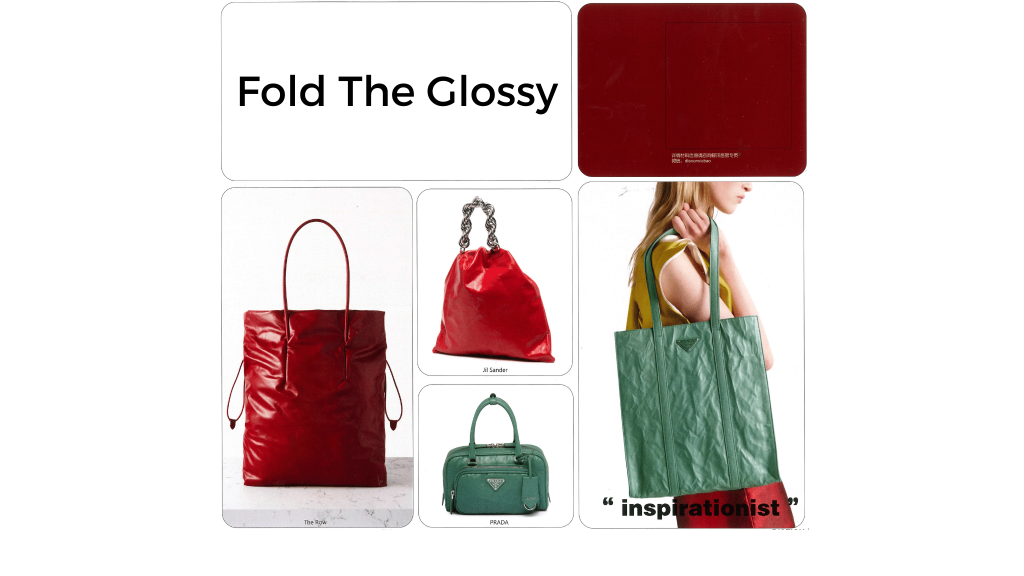 The glossy trending material used for the fold is crafted from a versatile plastic-like substance that can be molded into a myriad of shapes and styles. This enables the creation of unique and one-of-a-kind handbag designs. Plastic's versatility as a material opens a world of design possibilities for handbags. Plastic handbags are frequently lightweight, making them useful for daily use as it is simpler to carry necessities without adding too much weight. When it comes to casual outings, beach vacations, or situations where a practical and low-maintenance option is preferred, plastic handbags are often the go-to choice. These handbags, crafted from this distinctive material, serve as the ideal accessory for a high-fashion streetwear-inspired outfit.
Key Material #6: Soft Leather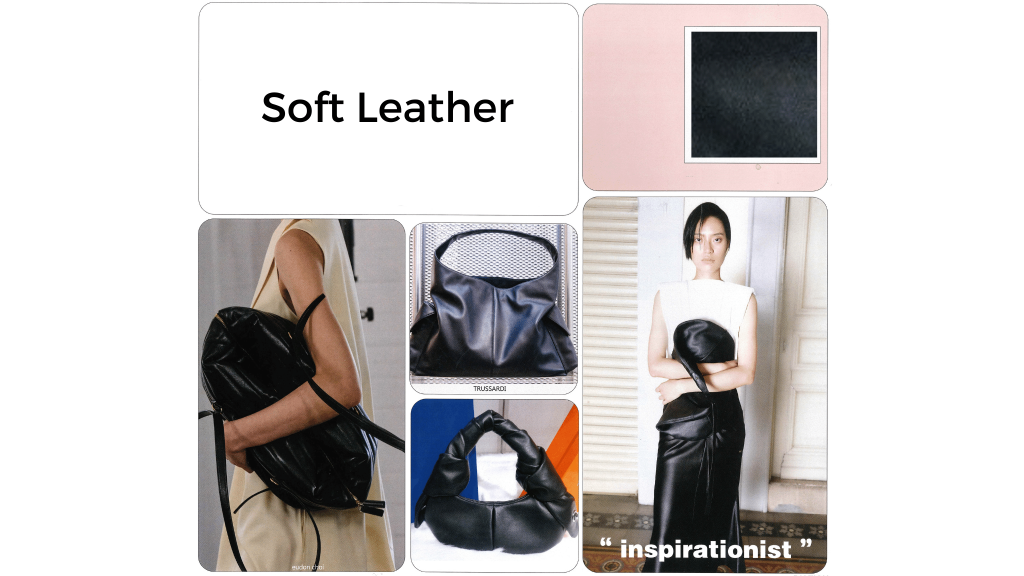 The last of the Key Materials S/S 2024 is a classic. Handbags made of soft leather have a timeless, elegant appeal that never goes out of style. They are elegant and go well with a variety of clothes and settings. A versatile option for both everyday wear and special occasions, leather handbags frequently feature an everlasting texture that can outlive fashion trends. The leather material has a soft, supple feel that makes carrying it a pleasure. The softness of the leather enhances the overall luxurious and tactile experience of using a leather handbag. The soft leather material allows for a perfect spring/summer texture.
Want to read more about the key trends for women's bags in S/S 2024?