Details are essential to enhancing a handbag's overall aesthetic appeal as they can improve the design's style, originality, and visual appeal. A simple bag can be transformed into a statement piece with the addition of embellishments, hardware, and other details, increasing its beauty. Furthermore, handbag details are significant because they influence the quality, functionality, and expression of personal style. The details can transform a handbag from a mere functional accessory to a fashion statement, making it an essential component of a person's overall look. Let's have a look at 6 Key Details for women's handbags for the season S/S 2024.
Key Detail #1: Y2K Details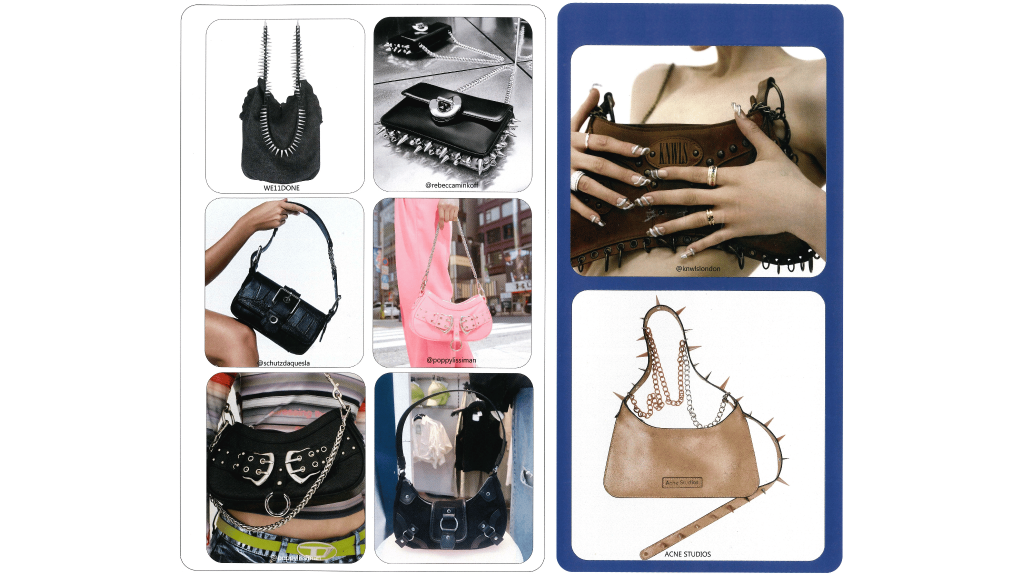 Fashion is beginning to see a resurgence in the infamous Y2K trend and handbags are no exception. The Y2K fashion trend brings us many small details such as chains, buckles, rhinestones, beads, and many more which contribute to the overall aesthetic of the piece. Chain straps or accents are a common feature of Y2K handbags, giving the designs a dash of edginess and sophistication. Furthermore, designers often utilized embellishments such as charms, beads, sequins, and rhinestones to enhance the overall aesthetic and create a striking statement. Due to y2k details giving such a unique and interesting look to the handbag, it can be worn with a simple outfit to let the handbag have all the attention or a unique Y2k-inspired outfit to really show off the early 2000s trend.
Key Detail #2: Dot Eyeball Metal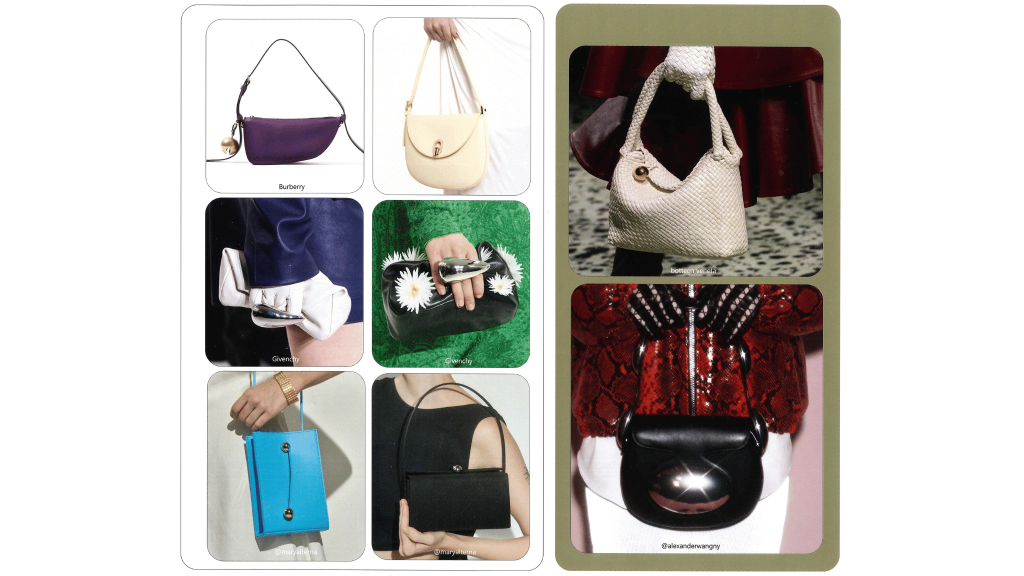 The second Key Detail for S/S 2024 is Dot Eyeball Metal. Metal accents on handbags make a forceful statement with a shiny reflective appearance. They can act as focal points, highlighting aspects of the bag and establishing a visual center. Metal ball-shaped accents also give the handbag a sense of individuality and personality. They enable wearers to express their own sense of style and make a fashion statement. Additionally, hardware accents give handbags a hint of edginess and modernity. Paired with a minimalistic outfit, the dot eyeball metal detail will give the perfect balance of edgy and soft.
Key Detail #3: Sequins Chainmail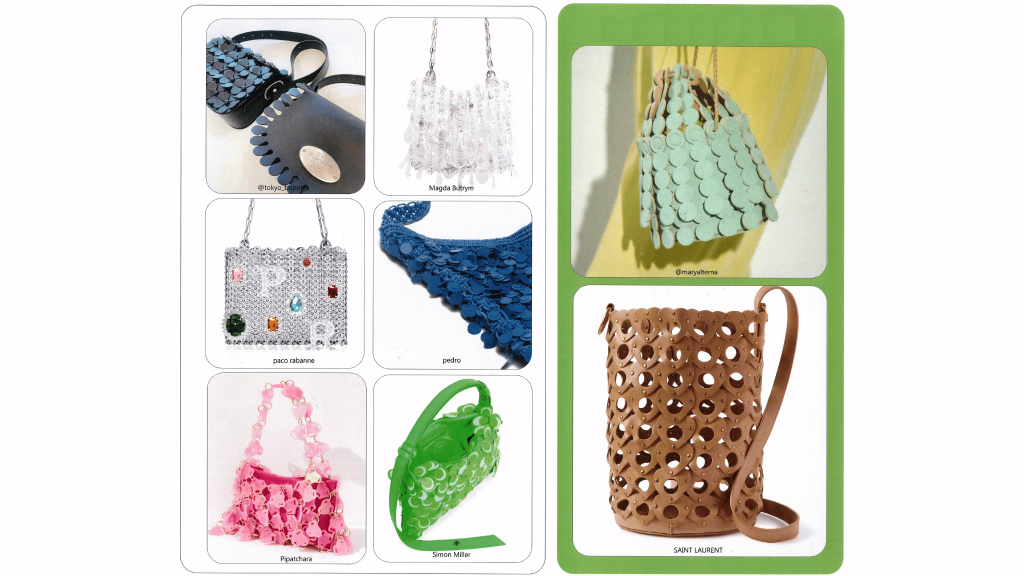 It's time to be the center of attention! Sequin chainmail handbags are edgy and captivating accessories that act as the focal point of your outfit and make a powerful fashion statement. A chainmail handbag is certain to catch the eye, whether you're attending a special occasion, a party, or simply want to add some zest to your everyday look. Chainmail handbags have a shimmering, reflective quality due to their metallic construction. They produce a captivating sparkle and shine when exposed to light, adding a luxurious touch to your ensemble. Furthermore, sequin chainmail handbags are surprisingly light and flexible considering their metal construction. Because the rings are frequently closely spaced, the handbag can move and take on the shape of your body. This makes them comfortable to wear and carry for long periods of time, a perfect option for the spring/summer season.
Key Detail #4: Wide Shoulder Strap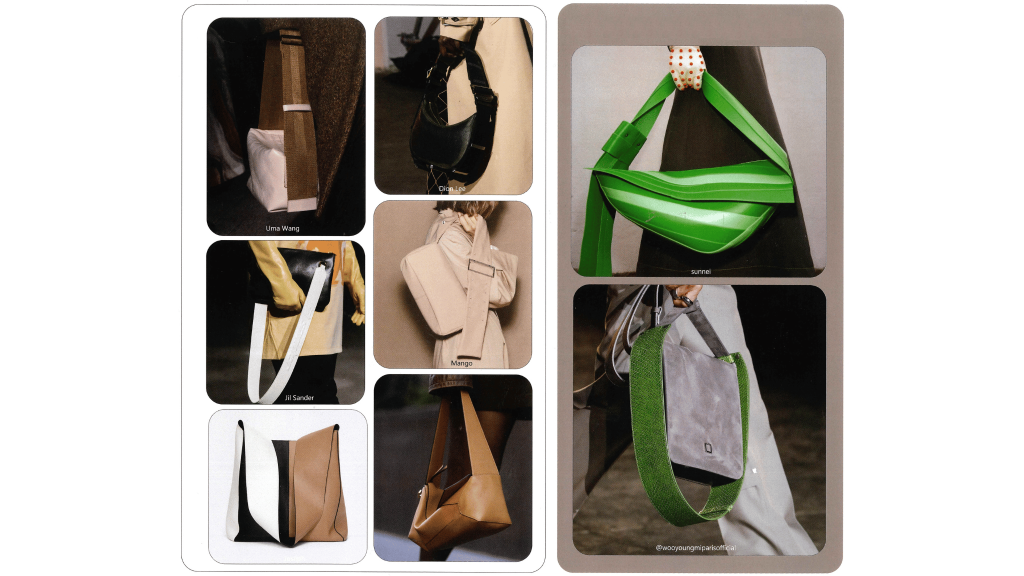 Another of the key details for S/S 2024 is the wide straps. They can add style and visual appeal to a handbag. They can also be a bold fashion choice as the wide strap emerges as a standout element, enhancing the bag's style and turning it into a unique accessory. Not only are they visually appealing but function as well with their enhanced stability. Wide straps provide better support and stability to the bag. They ensure it remains securely in place while you're on the move. They reduce the likelihood of the bag slipping off your shoulder. For people who are always on the go or who participate in activities that call for mobility but still want to remain fashionable at all times, this handbag detail is a perfect choice.
Key Detail # 5: British Open Line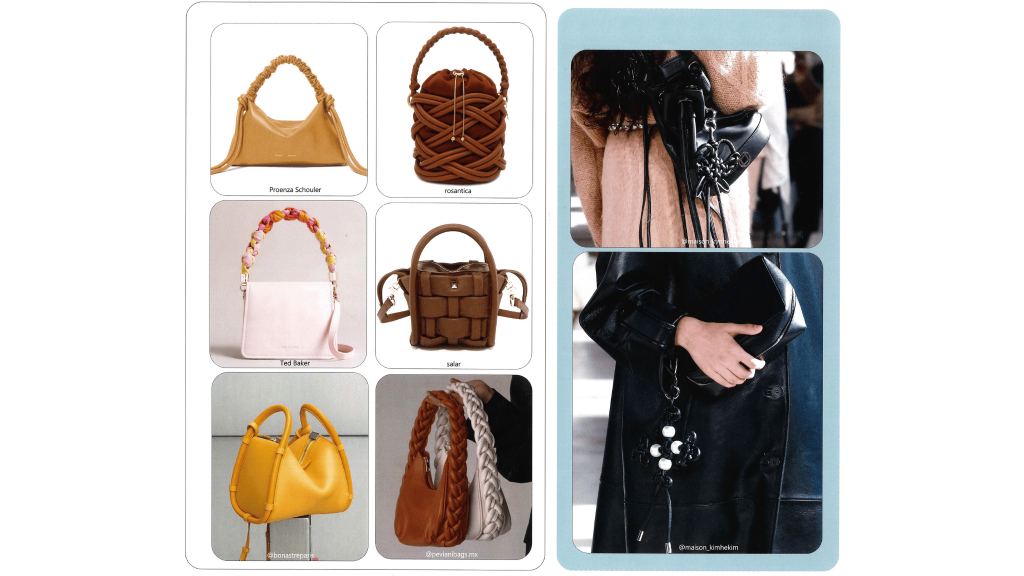 The weaving pattern enhances both the texture and visual appeal of a handbag, adding a trendy detail to its overall aesthetic. The intertwined strips form a three-dimensional pattern that gives the surface of the bag depth and interest. This handbag's distinctive feature that distinguishes it from rivals may be its textured design. When made from natural materials like straw, raffia, or leather, British open-line handbags frequently have an aesthetic of naturalness, a feeling of earthiness, and a connection to nature evoked by the woven texture. These handbags can add a touch of nature to luxury or bohemian-inspired outfits.
Key Detail #6: Many Module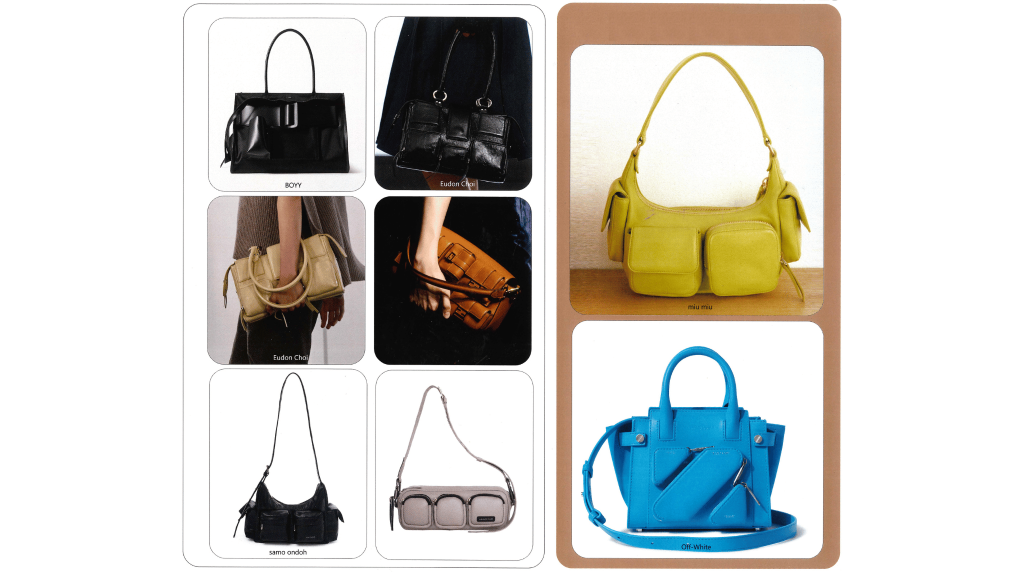 The many module surface handbags include many pockets resulting in an interesting and functional design. These cargo-like handbags have a utilitarian aesthetic that comes from a military/outdoor influence. This design aesthetic combines functionality and style to create a unique and rugged look that appeals to individuals who prioritize practicality in their accessories. As Cargo handbags frequently have numerous exterior and interior pockets and compartments, better organization and easy accessibility to your belongings are made possible by these extra storage areas. Your phone, keys, wallet, cosmetics, and other necessities can all be conveniently stored and organized so that everything has its place. The many module surface detail in handbags gives a luxury streetwear aesthetic to any outfit.
Want to read more about the key trends for women's bags in S/S 2024?
Key Colors S/S 2024 For Women Bags
Key Shapes S/S 2024 For Women Bags